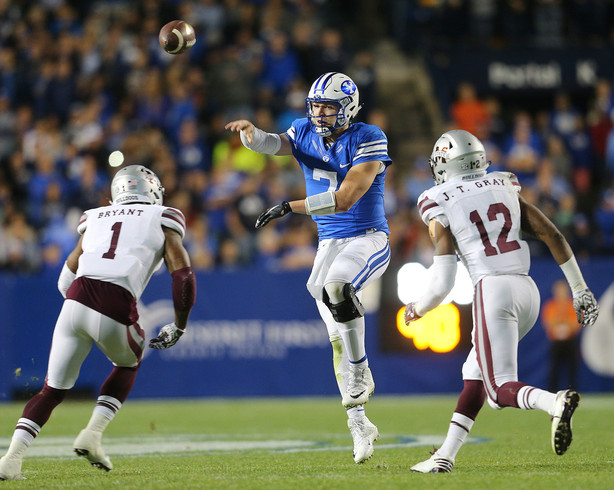 Taysom Hill throwing the game winning touchdown pass against Mississippi State in 2016. (Scott G. Winterton, Deseret News)
After the BYU Cougars lost their fifth consecutive game, every Cougar fan was asking, "When will it end?" In reference to the losing, of course. However, there is a growing amount of Cougar fans asking that same question about another streak.
As BYU built a successful football program, it became synonymous with
two things
: scoring points and throwing the football. Amassing ridiculous amounts of yardage through the air had become so common place in Provo, that last month this site thought it was worth pointing out that it had been 10 years since a Cougar quarterback had over
500 yards passing in a game
. The 500 yard milestone has become nothing but nostalgia.
Nowadays, BYU is failing to meet a minimum threshold of competency.
BYU has not thrown for 200 yards in over a calendar year now. The last time was vs Toledo on 9/30/16 when they threw for 248.

— CougarStats (@CougarStats) October 6, 2017
This tweet was later clarified to mean that BYU has not thrown for more than 200 yards against a Football Bowl Subdivision (FBS) opponent (BYU had 441 yards passing against Southern Utah last year). After BYU had just 172 yards passing later that night, the streak continued.
This also has the BYU faithful squealing, "When will it end?" Will BYU pass for over 200 yards at Mississippi State?
In five games this season, the Bulldogs have allowed over 200 yards passing twice, and neither of those opponents needed more than 16 pass attempts to do it. It is important to point out, however, that Georgia and Auburn are currently ranked in the AP Top 10. Other foes, have found it difficult to pick up yards through the air. Neither school from Louisiana (LSU and Louisiana Tech) could get more than 163.
Georgia and Auburn also had over 200 yards rushing against Mississippi State. The key to BYU passing for more than 200 yards this week may be to have an effective ground game.
At this point, almost no one in their wildest dreams expects BYU to beat Mississippi State. The Cougars don't have the same kind of talent as Georgia and Auburn. However, those two schools have exposed some weaknesses that BYU can try and exploit. It may not be enough to win, but could be enough to finish the game with more than 200 yards passing.
The Editor appreciates all feedback. He can be reached via email at bluecougarfootball@gmail.com