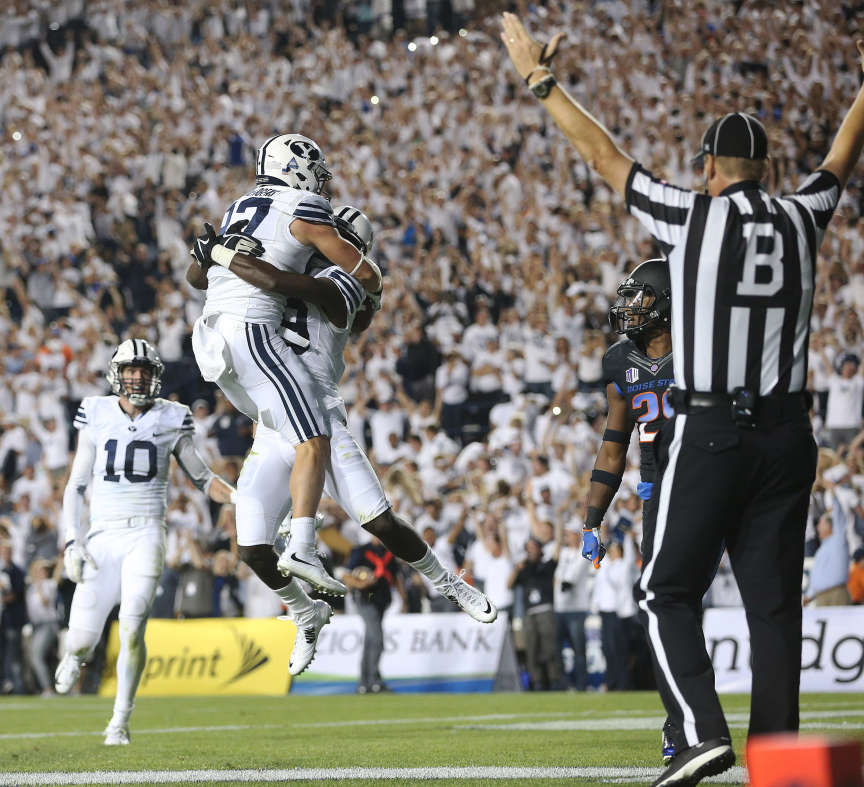 Photo Credit: Scott G Winterton, Deseret News
The BYU Cougars (1-4) and Boise State Broncos (2-2) both enter tonight's game looking for a win that can help define the rest of the season. Neither program has played up to their lofty expectations. The outcome of this game will set the tone for the second half of the season.
BYU hasn't beaten a Football Bowl Subdivision opponent this season. If the Cougars can't beat either Boise State or Mississippi State next week, then they will be in a must win situation every game the rest of the season in order to finish bowl eligible. Beating Boise State at home is a much easier task than Mississippi State in hostile Davis Wade Stadium.
While BYU may be better on paper than the final six opponents, it is easy for inferior teams to win football games when the better team doesn't have unity. Many BYU fans still remember this resulting in the only losing seasons in school history over the last forty-two years. If BYU falls to 1-6, and there are still health concerns at quarterback, then the team might just become divided.
Beat Boise State and BYU can have some swagger as it goes up against those final six opponents.
Boise State is off to its worst start since 2013; in terms of wins and losses. However, the Broncos have little reassurance that everything is going to be alright from its two wins. In 2013, its first two wins were 63-14 and 42-20 blowouts. This year, Boise State hasn't scored more than 28 points in its two wins (Troy and New Mexico). The Bronco's largest margin of victory is 14 points.
Boise State's invincibility at home was destroyed two weeks ago when Virginia handed the Broncos their worst home loss since 2001. Boise State has also squandered a huge lead and lost. No one will fear the Broncos the rest of this season if they lose to struggling BYU and fall to 2-3.
With a win, Boise State builds momentum for the meat of the conference schedule. The Broncos are still undefeated in conference play. A win gives them the confidence that they fixed some problems during last week's bye, and can be a force down the stretch in the Mountain West.
Boise State has a dual-threat quarterback who could present problems for the BYU defense. It will take a total team effort for BYU to win. For the defense, that means allowing no more than 17 points. Given the BYU quarterback situation, scoring 20 points will be a big challenge.
KEYS TO THE GAME
Protect the quarterback. Whether it is a banged up Tanner Mangum or a true freshman Joe Critchlow, BYU has to take care of the quarterback. Boise State knows regardless of who is under center, BYU will be a run first offense. The Broncos will be prepared to stop the run, but BYU can't neglect the passing game. That starts with protecting the quarterback.
Turnovers. Last week showed just how deadly they can be. BYU has to avoid turning the ball over, and force as many turnovers as possible. Turnovers have played a huge role in BYU's two wins against Boise State, and put BYU in a position to win last year despite having 249 yards less total offense.
DATE: Friday, October, 6, 2017
KICKOFF: 8:15 PM
TV: ESPN
The Editor appreciates all feedback. He can be reached via email at bluecougarfootball@gmail.com