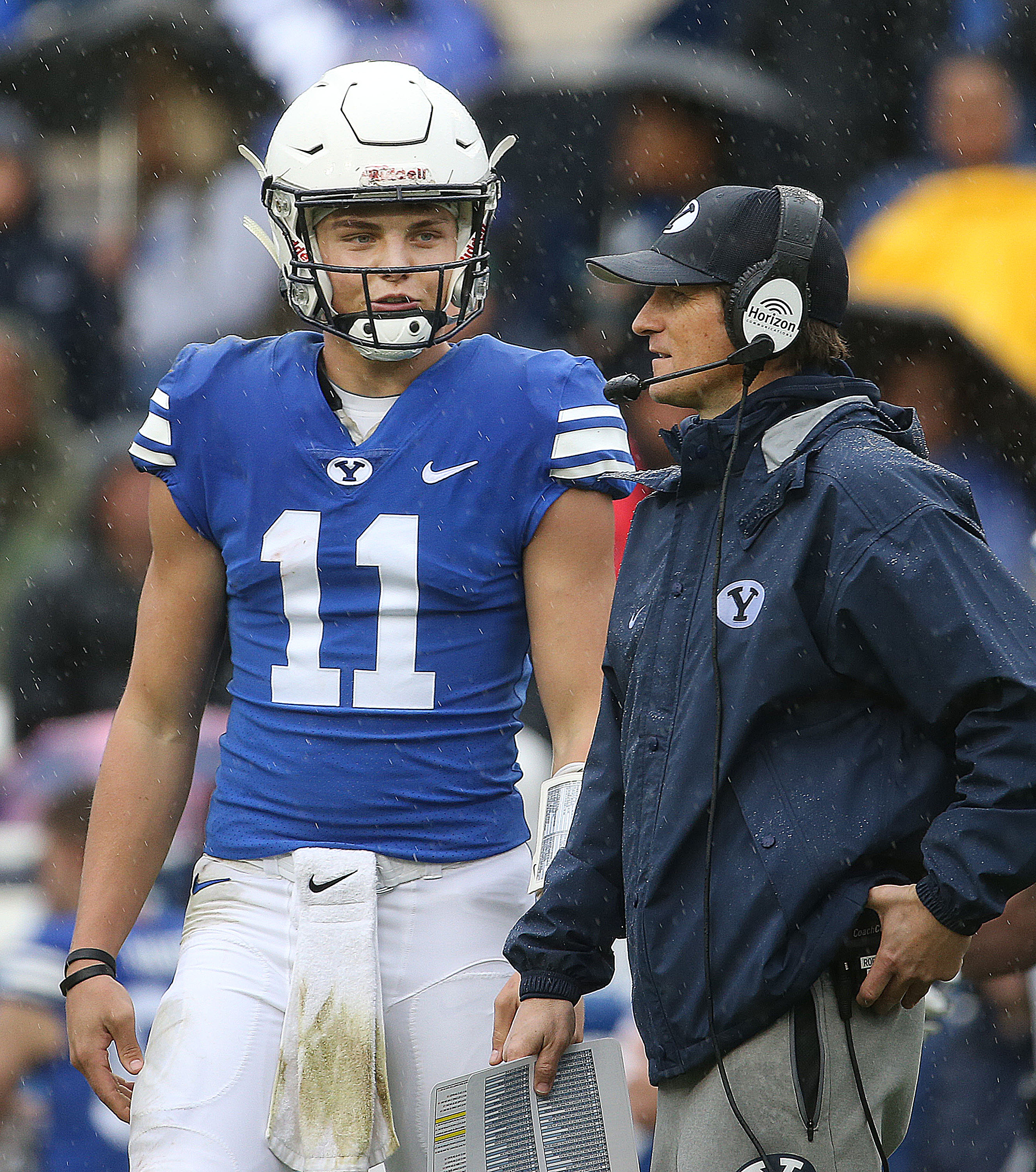 Zach Wilson could be the fifth true freshman quarterback to start for BYU in the last nine seasons (Laura Seitz, Deseret News)
After a 4-9 season in 2017, the upcoming football season is very important for head coach Kalani Sitake and the BYU Cougars. As the season approaches, BYU has a big decision to make at the game's most important position: quarterback. Health issues aside, the Cougars had underwhelming play from its signal callers last year.
In a wide open race for the starting spot under a new offensive coaching staff, true freshman Zach Wilson has gained some momentum as a legitimate candidate for the starting spot. Wilson
made headlines
when he changed his mind and signed with BYU instead of Boise State last December. In BYU's Spring game earlier this month, he was one of three quarterbacks to get a serious opportunity to lead the offense.
Besides needing to rebound from a glaringly ugly win-loss record, the 2018 season is also important because the end of
BYU's TV contract with ESPN
is quickly approaching. It goes without saying that BYU needs to win as much as possible in the final two years of that contract. A valuable contract with ESPN, or another TV partner, is vital to the continued sustainability of independence for the Cougars.
That leads to the question: Can BYU survive 2018 with a true freshman (Zach Wilson) at quarterback?
Should Wilson get the starting nod, it wouldn't be the first, or second, or even the third season this decade the boys in blue have taken the field with a true freshman under center. Jake Heaps, Tanner Mangum, Taysom Hill, and Joe Critchlow have all started games for BYU since 2010 as true freshmen. Hill and Critchlow started three games or fewer, but each won two games. Heaps and Mangum started, virtually, the entire season in 2010 and 2015, respectively. BYU finished the 2010 regular season, its last as a member of the Mountain West Conference, with a 6-6 record and demolished UTEP in the New Mexico Bowl, 52-24. Mangum guided BYU to a 9-3 regular season before falling to Utah in the Las Vegas Bowl, 35-28.
BYU Athletic Director Tom Holmoe has not come out with an edict setting a standard of success that Sitake needs to achieve in order to keep his job following 2018, but the popular sentiment seems to be get BYU back to a bowl game. By that measure, BYU "survived" under the guidance of Heaps and Mangum. So did most of the Football Bowl Subdivision schools that started a true freshman quarterback for pretty much all of 2017.
Georgia, Florida State, Texas A&M, Texas, and Maryland all had a true freshman quarterback leading their offenses for nearly every game last season. All but Maryland (4-8) made it to a bowl game. Georgia went all the way to the National Championship game. The Seminoles, Longhorns, and Aggies all finished the season with a 7-6 record, which matched BYU's 2010 record.
BYU's
2018 schedule
has six games that the Cougars "should" win: McNeese State, Utah State, Hawai'i, Northern Illinois, UMass, and New Mexico State. History shows that the Utah game usually hinges on one play, and that a split of Arizona and Cal isn't an unreasonable possibility.
Winning enough of those game to get to a bowl game coupled with a promising performance from Wilson this season, would put the excitement level around the program on a trajectory similar to what it was following Heaps' freshman campaign. Wilson taking BYU to a bowl game in 2018, followed by an even better 2019, will lead to good TV ratings and put BYU in a good position when negotiating its future TV contract.
Over the last decade, starting a true freshman quarterback doesn't seem to be as debilitating as it once was. It also helps in the case of Wilson that he enrolled early and took part in Spring practices. Should Wilson land the starting role, BYU and Sitake will probably make it to a bowl game, which is probably enough to survive the season.
The Editor appreciates all feedback. He can be reached via email at bluecougarfootball@gmail.com