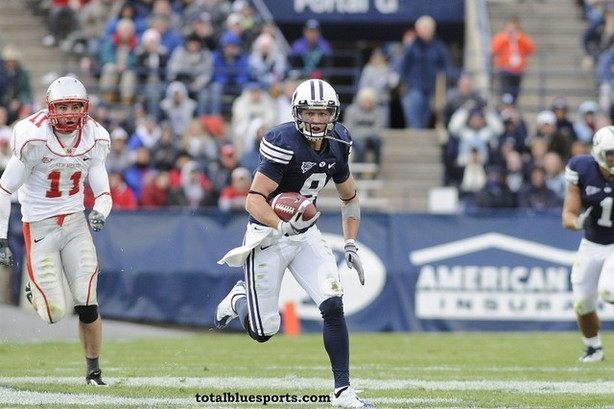 Dylan Collie probably wouldn't best his brother Austin's record-setting 2008 season if he comes to BYU, but he could do something else to match it.
With the possibility of Dylan Collie returning to the BYU Cougars and
playing
, like his father (Scott) and two brothers (Zac and Austin), it is only natural to dig up a little bit of Collie family trivia. Ten years ago (2008), Austin had the greatest receiving season in BYU history.
Did you know that Dylan Collie, if he transfers to BYU, would need to make 54 receptions for 697 yards and 10 touchdowns so that the best seasons of the other Collies would match Austin's record-breaking season?
In that 2008 season, Austin had 106 receptions for 1,538 yards and 15 TD. Scott Collie's best season was 1981 when he had 26 receptions, 404 yards, and three touchdowns. Zac's best season was 2006. He made 26 receptions for 437 yards, and two touchdowns that season.
That adds up to 52 receptions, 841 yards, and five touchdowns for the two oldest Collies. Simple mathematics provides the 54, 697, and 10 stat line noted above.
Collie Family Career Stats
| | | | |
| --- | --- | --- | --- |
| | Rec. | Yards | TD |
| Scott (1979-82) | 44 | 706 | 4 |
| Zac (2005-06) | 37 | 535 | 4 |
| Austin (2004, 07-08) | 215 | 3,255 | 30 |
| Totals | 296 | 4,466 | 38 |
The Editor appreciates all feedback. He can be reached via email at bluecougarfootball@gmail.com