Editor's Note: As has been done in previous years, an honorable mention list can be found at the end of this post.
While the intent of this Top 10 list was to celebrate the contributions of Polynesians, it could also be called a celebration of players who succeeded as BYU Cougars after getting a second chance. At least four players on this list sat out a year or delayed enrollment because of Honor Code issues. Yet, they came back and became stars. None more so than Kyle Van Noy.
Expectations were high for Kyle Van Noy from the very first day he set foot on campus in 2010. He was named first team All-State after leading Nevada powerhouse McQueen High School to a state championship and perfect 14-0 record. Besides being a savage on defense, he demonstrated his elite athleticism by accumulating over 1,500 receiving yards and 30 touchdowns on offense his junior and senior seasons combined (he averaged nearly 21 yards per catch as a senior).
There were few things Van Noy didn't do while at BYU. One was that he didn't disappoint those who held those high expectations.
Although Van Noy was clearly one of the best 11 defenders on the team, even as a freshman, he wasn't given special treatment. Therefore, through the first four games, he played mostly special teams, and he didn't record a tackle. BYU was just 1-3 after those four games, which added to Van Noy's frustration. Head coach Bronco Mendenhall had to reassure Van Noy his time would come--sooner rather than later.
Photo: Jim Urquhart, AP
In the next game at Utah State Van Noy didn't start, but he played a lot more. The end result was seven tackles (one tackle for loss) and a forced fumble. The seven tackles would end up being his season high. Van Noy then started the next two games. He got his first sack in his first start.
A common theme was already developing: Van Noy could be counted on to make big plays.
He returned to a reserve role after those two starts, but that didn't mean he wouldn't play during crunch time. Van Noy and the Cougar defense had to protect a five-point lead in the closing moments of the Wyoming game. On fourth down at the BYU 26-yard line with 27 seconds to play, Van Noy sealed the victory by batting down the Wyoming quarterback's pass. On the first play of the second quarter of the Colorado State game, Van Noy scooped up a Rams fumble and returned it 44 yards for a touchdown.
He was already starting to make a name for himself in BYU circles. In 2011, the nation would be introduced to Mr. Van Noy.
Van Noy's sophomore season was BYU's first season as an independent. Most BYU games were broadcast on ESPN, including the season opener at Ole Miss. With BYU trailing by six points late in the fourth quarter, Van Noy showed the nation he had no problem playing in SEC country.
His strip sack and the ensuing fumble return for a touchdown won the game. It also put him on the college football map. More clutch plays throughout the season that were caught on tape by ESPN caused Van Noy's stature on the college football landscape to grow.
During a Friday night national telecast, Van Noy made two big plays (tipped a pass that was intercepted, and a sack) to stop two UCF drives in the final three minutes and preserve victory.
Van Noy became the focal point of the Cougar defensive schemes as he continued to rise up and make game changing plays. He finished the season with a Herculean effort in the Armed Forces Bowl.
Deservedly, Cody Hoffman gets a lot of attention for his last second heroics to win that game. However, that does deflect the spotlight from Van Noy's stellar play. For the game, he made 10 tackles (5 TFL), and had a second half sequence where he made consecutive tackles on first, second, and third downs. His sack on third down pushed Tulsa back far enough their placekicker missed the field goal. By vanquishing the foe, as the Cougar fight song proclaims, on that series, Van made Hoffman's heroics possible.
One achievement from that season that didn't go unnoticed was how Van Noy was the only player in the nation to record at least one tackle, tackle for loss, sack, interception, fumble recovery, forced fumble, quarterback hurry, pass breakup, blocked kick/punt, and touchdown. He, literally, did it all.
Van Noy's play as a sophomore did more than attract attention to himself. It inspired everyone on the defensive side of the ball. When they took the field in 2012, they did something special. Many view that defensive unit as the best in BYU history. It's hard to argue with the numbers.
Van Noy continued to regularly make game changing plays as a junior. His effectiveness was recognized by the College Football Performance awards. Based on their scientific models for evaluating players, Van Noy was recognized as the
National Defensive Performer of the Year.
That season, everything culminated for Van Noy in the Poinsettia Bowl. When BYU needed it most, Van Noy took over the game. This time, the limelight was all his.
BYU was trailing San Diego State 6-3 in the fourth quarter. First, Van Noy recycled his trick from the Ole Miss game, and scored a touchdown to give BYU the lead. A few minutes later, he one upped himself by returning an interception for a touchdown.
Van Noy had completely taken control of the game and delivered a win. It was obvious, Van Noy was ready for NFL stardom. He recorded 13 sacks and 22 tackles for loss that season. His Cougar legacy was set in stone. For the second season in a row he filled every column possible on the stat sheet. What more could he do?
Just a few days later, Van Noy announced he would return for his senior season citing "
unfinished business
."
Van Noy never specified what that unfinished business was, but he harassed the Texas quarterbacks all night in BYU's 2013 home opener recording four quarterback hurries as the Cougars avenged a 2011 loss to the Longhorns.
He also found a new way to score: the safety. With four touchdowns in three seasons, Van Noy got on the score sheet with a safety against Middle Tennessee State.
Van Noy must have decided after the game that he enjoyed scoring touchdowns more than safeties because on the first play of the next game he returned another interception for a touchdown. Both scores were game changers.
Van Noy is one of the all-time sack leaders in BYU history. The three sacks he had against Georgia Tech helped move him up the charts. That one game total is more impressive considering the Yellow Jackets ran an option offense.
Van Noy was key in BYU getting its first win against Boise State. (Sound like unfinished business?) He forced a fumble and recovered another fumble.
BYU's final regular season was a homecoming for Van Noy. The Cougars travelled to his hometown Reno, Nevada. The Wolf Pack scored a touchdown late in the game to cut the Cougar lead to five points. A two-point conversion would give Nevada a chance to tie the game with a field goal.
Deja-vu? Sounds similar to the Wyoming game his freshman season. Just as BYU could count on him then, Van Noy was there to seal the win for BYU. He intercepted the pass on the two-point try.
It wasn't as impressive of an ending to his career as the Poinsettia Bowl would have been, but it may have been more appropriate. Van Noy had come full circle. Playing in his hometown and finishing his game-changing career by sealing a victory in similar fashion to how he did it as a freshman.
Van Noy set BYU records for most tackles for loss in a career (62) and defensive touchdowns (5).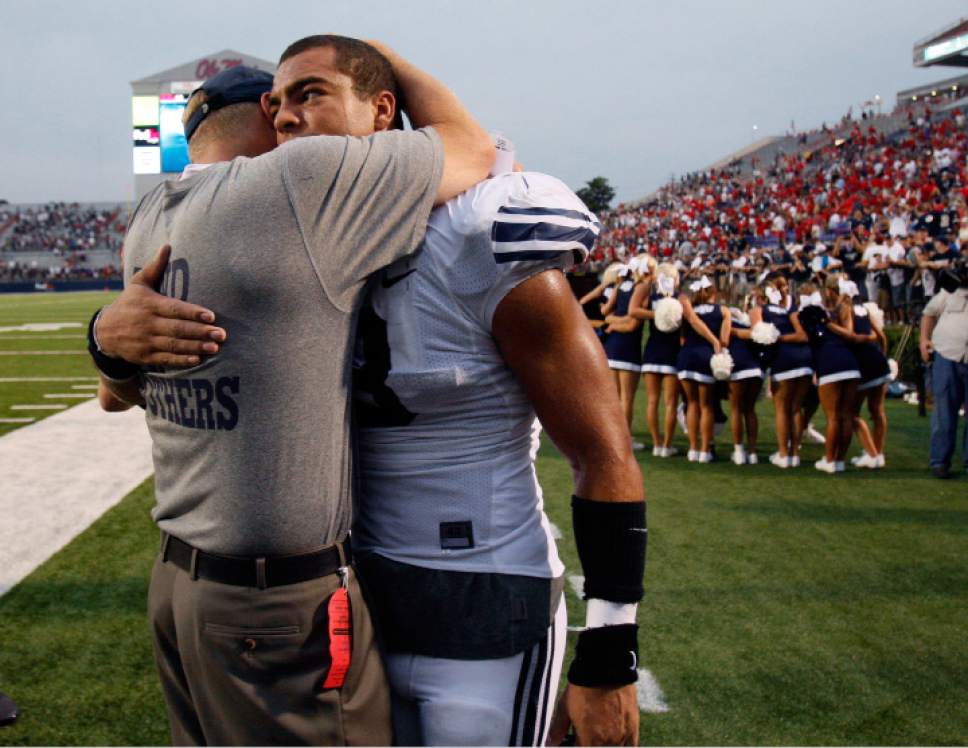 Bronco Mendenhall after the Ole Miss game in 2011 (Rogelio V. Solis, AP)
| | | | | | | | | | | | |
| --- | --- | --- | --- | --- | --- | --- | --- | --- | --- | --- | --- |
| | Tackles | Solo | Assist | TFL | PD | Int | Sacks | QBH | FF | FR | TD |
| 2010 | 35 | 24 | 11 | 7.5 | 2 | 0 | 2 | 2 | 2 | 1 | 1 |
| 2011 | 68 | 50 | 18 | 15 | 3 | 3 | 6 | 10 | 3 | 1 | 1 |
| 2012 | 53 | 37 | 16 | 22 | 5 | 2 | 13 | 8 | 6 | 1 | 2 |
| 2013 | 70 | 42 | 28 | 17.5 | 7 | 2 | 4 | 11 | 0 | 2 | 1 |
| Career | 226 | 153 | 73 | 62 | 17 | 7 | 25 | 31 | 11 | 5 | 5 |
Van Noy was drafted in the second round of the 2014 NFL Draft by the Detroit Lions. Injuries disrupted his first couple of seasons. He was traded to the New England Patriots in the middle of the 2016 season. He has played in the last two Super Bowls, winning one.
Top 10 Polynesian Players
10. Mekeli Ieremia, DT, 1974-77
9. Kurt Gouveia, LB, 1982-85
8. Reno Mahe, WR/RB, 1998, 2001-02
7. Glen Kozlowski, WR, 1981, 1983-85
6. Aaron Francisco, DB, 2001-04
5. Vai Sikahema, PR/KR/RB, 1980-81, 1984-85
4. Kai Nacua, FS, 2013-16
3. Lakei Heimuli, RB, 1983-86
2. Harvey Unga, RB, 2006-09
1. Kyle Van Noy, LB, 2010-13
Honorable Mention Polynesian Players
Bronson Kaufusi, DE, 2012-15
Alani Fua, LB, 2011-14
Uani Unga, LB, 2012-13
Justin Ena, LB, 1998-2001
Itula Mili, TE, 1991, 1994-96
Peter Tuipulotu, RB, 1987-91
Casey Tiumalu, RB, 1982-83
David Aupiu, LB, 1981-82
The Editor appreciates all feedback. He can be reached via email at bluecougarfootball@gmail.com