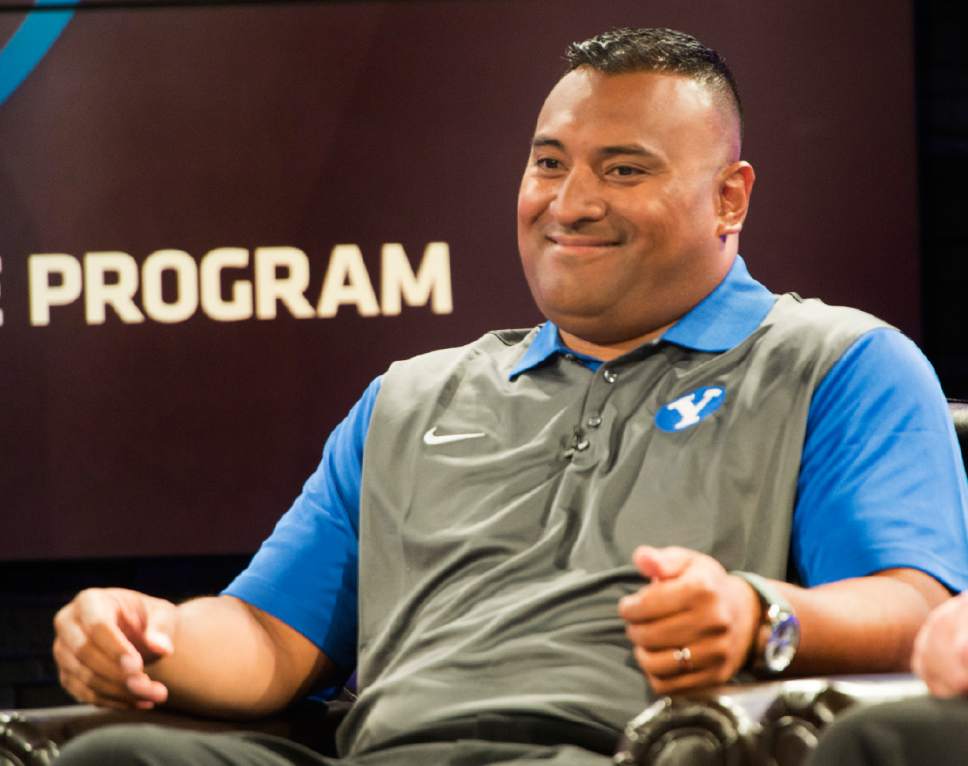 BYU head coach Kalani Sitake likes the way the new redshirt rule can be used for return missionaries (Rick Egan, The Salt Lake Tribune)
Each year there are several rule changes in college football. Most fly under the radar and don't have a major impact on the game. The new redshirt rule is not expected to be one of them.
For a long time, the rule was once a player enters a game he has used a year of eligibility. The only way to get that back was to sustain a season-ending injury during the first four games of the season. If that happened, the player would qualify for a medical hardship. Now, he can play up to four games, any four games, during the season and still qualify to redshirt that season.
The first thought that comes to mind with that rule is that coaches would use the first four games of the season like an extension of fall camp. Find out which freshmen are really ready to compete at that level. Sort out the depth chart with live games, and not just team scrimmages. Get all players experience, so when the inevitable season-ending injuries happen, the next man up is already prepared.
BYU Cougars head coach Kalani Sitake sees an opposite scenario of the new rule as the biggest benefit to BYU.
Sitake was asked about the new rule during the BYU Football Media Day State of the Program. His response focused on using return missionaries during the final four games of the season.
"We could have used a lot of return missionaries last year in November," Sitake said.
He described a scenario where a player returns from his mission in August. That player is not going to be ready to contribute in September. Sitake stressed how difficult the transition is for a returned missionary to get back into football shape after two years off, but the coaches could give him a goal to be ready to play in November and still be a freshman the next season.
Besides motivating return missionaries, the new rule also can provide depth for the team.
Sitake added, "We can use a lot more players on our roster."
BYU would have benefited greatly by added depth late last year to fill holes created by injury. As a reminder, BYU had an avalanche of injuries during the season. The Cougars suffered two tough losses in the final four games last season (Fresno State and UMass) that kept them out of a bowl game. At that point of the season, Sitake and his staff could have sent
any
player into the game that they though would have best helped the team win.
BYU RB Zach Katoa (Jaren Wilkey, BYU Photos).
When Joe Critchlow was struggling against UMass, former offensive coordinator Ty Detmer could have replaced him with Kody Wilstead. There would have been no dilemma about both Critchlow and Wilstead losing their redshirts.
During BYU's spring football practices a few months ago, running back Zach Katoa turned a lot of heads. Sitake then explained that he did that last fall playing on the scout team while he redshirted. In fact, he was so impressive that team captain Fred Warner approached Sitake mid-season and asked that Katoa not redshirt. The team needed him on the field. Had the new redshirt rule been put in place one year earlier, Sitake probably doesn't hesitate to use Katoa for the final four games.
It isn't hard to see how this new rule will have a big impact. With its unique set of circumstances, BYU may find more benefit from it than other schools.
The Editor appreciates all feedback. He can be reached via email at bluecougarfootball@gmail.com