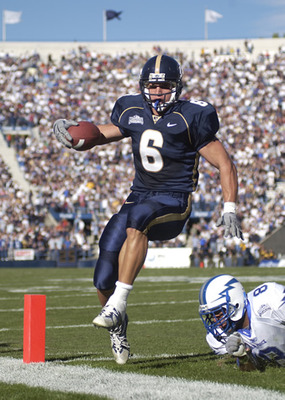 Luke Staley didn't just score a lot of touchdowns, he did it efficiently (Source: BleacherReport.com)
In order to prepare the
Top 10 Polynesian Players in BYU history
that has been featured on the site the last two weeks, I had to look at a lot of player stats. One that caught my eye was how often Vai Sikahema scored touchdowns in his limited role as a running back. He scored 11 touchdowns on just 112 carries, or one touchdown every 10 times he ran the ball. That got me thinking, how many other BYU Cougars have done the same or better?
Did you know that five BYU running backs have scored one touchdown for every 10 carries during their career (minimum eight touchdowns)?
Those players are:
Luke Staley, 41 TDs on 419 carries (1:10)
Waymon Hamilton, 29 TDs on 218 carries (1:7.5)
Eric Lane, 21 TDs on 190 carries (1:9)
Stacey Corley, 15 TDs on 138 carries (1:9)
Vai Sikahema, 11 TDs on 112 carries (1:10)
Just missing the cut was Chris Reading (1968-70), 9 TDs on 95 carries (1:10.5). Also of note, Francis Bernard had 7 touchdowns on just 52 carries in the one season he played running back (2015).
The Editor appreciates all feedback. He can be reached via email at bluecougarfootball@gmail.com