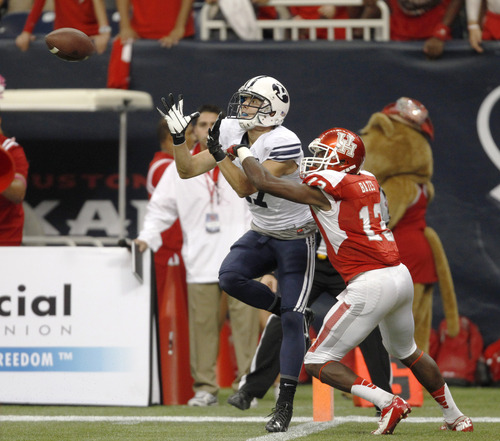 One of the most exciting games in recent memory, BYU beat Houston by a single point, 47-46, in 2013 (AP Photo/Eric Christian Smith).
Football has been called a game of inches because many times a game can come down to, not just one play, but one yard, one foot, or less. Since becoming a college football independent, the BYU Cougars have played several games that were settled by seven points or less. The difference in the game was, essentially, one play.
Did you know that since 2011 BYU's win-loss record in games decided by seven points or less is 14-20?
That is an average of almost five games per year. Here is a breakdown year-by-year.
2011: 4-1
2012: 1-4
2013: 2-2
2014: 1-3
2015: 2-3
2016: 4-4
2017: 0-3
Total: 14-20
By comparison, in the seven seasons before independence, the record was 16-9, and an average of a little more than three and a half per year.
2010: 3-1
2009: 3-0
2008: 3-0
2007: 4-0
2006: 1-2
2005: 1-3
2004: 1-3
Total: 16-9
The Editor appreciates all feedback. He can be reached via email at bluecougarfootball@gmail.com