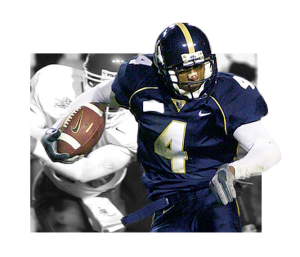 Current BYU cornerbacks coach Jernaro Gilford was a member of the 1998 recruiting class
With yesterday being the completion of the 2018 recruiting cycle, a trip down memory lane 20 years to look back on the BYU Cougars' 1998 recruiting class felt in order.
In all honesty, it wasn't one of the great LaVell Edwards' best recruiting jobs. The only thing about the first four names that registers anything is that one is the son of a famous NFL coach: Kevin Gilbride. He never materialized at BYU, and neither did Spencer Abney, Eugene Childs, and Logan Deans. All four were offensive recruits.
Then comes two defensive backs, from the same high school, who had nice Cougar careers. Brian Gray and Jernaro Gilford. From Hawthorne High School in California, Gilford played for BYU in 1999 and from 2001-03. He finished his career with 114 tackles, 10 interceptions, three tackles for loss, 18 pass break ups, and one forced fumble. His best season was as a sophomore in 2001. He made nearly half of all his tackles that season (56) and broke up 11 passes. He intercepted six passes, which he returned for 131 yards, including the interception he is most remembered for--Utah to seal the game.
Gray was also a Hawthorne alumnus, but came to BYU via El Camino Junior College. He was an immediate contributor in Provo. As a junior in 1998, he made 33 tackles, two interceptions, 12 pass break ups, one sack and two tackles for loss. That debut was followed up with 36 tackles, three interceptions, eight pass break ups, three tackles for loss, one forced fumble, and one quarterback hurry. The most impressive part about Gray's career is that he returned an interception for a touchdown each season. He had a 39-yard touchdown return against San Diego State in 1998, and a 28-yard return for a touchdown against Virginia in 1999.
Great defensive back play is something BYU has struggled to consistently find, so to have two guys from one recruiting class have that much of an impact is quite impressive.
The brother of Cougar legend Eli Herring, Isaac didn't have quite the same career at BYU. He was a reserve through his junior season. He started as a senior in 2001, but it sounds like he was only starting because of an injury to Ben Archibald. Three other offensive linemen, James Morgan, Brandon McFerren, and Hanale Vincent did little more than provide depth.
There were two offensive linemen who did become starters: Ford Poston and Dustin Rykert. Rykert had the better career, and the more memorable play. In the 2001 Liberty Bowl, Rykert caught a touchdown pass.
The only member of the 1998 recruiting class to make an immediate impact on offense was Reno Mahe, who went by Junior that first season. Although that was Ronney Jenkins'
super sophomore season
, Mahe managed to rush for 481 yards on 98 carries. He scored seven total touchdowns (six rushing, one receiving) and added 181 yards catching the ball out of the backfield. Mahe left for two seasons for an honor code violation, but returned and played wide receiver in 2001 and 2002. When all was said and done, he finished his BYU career with 719 yards rushing and seven touchdowns, with 2,163 yards receiving and 12 touchdowns, and with approximately 500 yards combined on kickoff and punt returns.
Running backs Sione Havili and Moa Peaua didn't make an impact during their careers.
Wide receiver Jonathan Pittman was another El Camino JC transfer. He redshirted in 1998 and played his final two years in Edwards' final two years coaching. Pittman had three 100-yard receiving games, including 161 yards in the Cougars' huge comeback at Virginia in 2000. His finest moment, however, was the back-to-back long balls he caught to set up the game-winning touchdown at Utah in both his and Edwards' final game. Pittman finished his career with 67 receptions for 1,169 yards, and nine touchdowns.
Brady Poppinga is another defensive player from this class who was a major contributor. After serving a two-year mission, he began contributing in 2001. Each year through 2004 he had more tackles and finished with 193. He also made 19 sacks and 39 tackles for loss. Poppinga went on to have a successful NFL career.
The last contributor from this class was T.J. Sitake, the younger brother of current BYU head coach Kalani Sitake. He was listed as a running back on signing day, but switched to defense. In 2005, he made 17 tackles and finished his career with 21 take downs.
Chris Stevens, Nathan Wente, and Michael Westbrook were all off the team before their senior seasons without seeing much playing time.
The Editor appreciates all feedback. He can be reached via email at bluecougarfootball@gmail.com