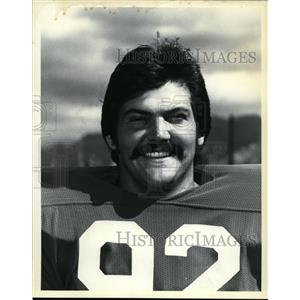 The legend of BYU quarterback Marc Wilson begins in 1977 with his stunning seven touchdown performance against 4-0 Colorado State in his first career start after All-American Gifford Nielsen suffered a career ending knee injury.
Fast forward three weeks to the Utah game, and Wilson was making history, again, by breaking the NCAA record for most passing yards in a single game.
The narratives for both games fail to mention the contributions of one player who had a significant role in each game.
At Colorado State, nearly half of Wilson's touchdown passes went to one player. In fact, it was three of Wilson's first four touchdown passes that were caught by Cougars tight end Tod Thompson. In the Utah game, Thompson had a team high six receptions for a career-high, at that time, 132 yards. That equates to nearly one-fourth of Wilson's record setting total of 571.
After quarterbacks, producing great tight ends is the next greatest legacy of the BYU Cougars. Yet, even die hard Cougar fans know nothing about Thompson.
Thanks to his Super Bowl win as head coach of the Baltimore Ravens, many Cougar fans know Brian Billick is a BYU alum. He was Thompson's predecessor. As tight end in 1976, Billick was named first team All-WAC. Billick's numbers that season were: 20 receptions, 388 yards, and one touchdown.
Although just a sophomore in 1976, Thompson had a role in the offense. He notched 13 receptions for 227 yards and two touchdowns. Both TDs were thrown by starting quarterback Gifford Nielsen.
Thompson's touchdown against Southern Mississippi was key to helping BYU regain momentum before halftime. Southern Miss had scored nine straight points to close the gap to two points, 21-19. Thanks to Thompson's 20-yard touchdown, BYU went into the locker room up 28-19, and came out and outscored Southern Miss 35-0 in the second half.
With Billick graduated, Thompson took over all tight end duties on 1977. Besides his key role already mentioned in the Colorado State and Utah games, Thompson scored BYU's only touchdown in a sloppy 10-7 win over Wyoming. He also had two touchdown catches in a tight 30-27 win over Long Beach State. He finished the season with 37 receptions for 602 yards (both fourth highest on the team) and eight touchdowns (second highest), but he was just honorable mention All-WAC.
Thompson came back in 1978 and had another strong season. In the season opener against Oregon State, he caught BYU's only touchdown which went a long way in helping the Cougars win 10-6. Against San Diego State, Thompson caught a 64-yard pass, which was more than one-third of BYU's 180 yards of total offense for the game. He had 84 yards receiving for the game. In the final regular season game, Thompson caught a fourth quarter touchdown that put BYU in the lead, 21-17, which was key to the Cougars winning 28-24.
Thompson had the best game of his career against Oregon. He caught six passes for a career-high 188 yards. What the numbers don't show is how important he was to BYU winning the game. With the Cougars down 16-3, Jim McMahon came in at quarterback. Thompson caught a 21-yard touchdown pass from McMahon with 6:21 left in the fourth quarter to make the score 16-10. The two also connected on a 50-yard pass play. BYU ended up winning 17-16.
Thompson finished 1978 second on the team in both receptions (34) and receiving yards (560), and first on the team with five touchdowns. However, he was just honorable mention All-WAC for the second season in a row. Clay Brown would have 31 receptions for 498 yards and two touchdowns in 1979 and be named first team All-WAC.
Thompson finished his Cougar career with 84 receptions for 1,389 yards and 15 touchdowns. He had the seventh most receptions in school history, and fifth most receiving yards in school history, at that time. Thompson was also fourth on the all-time list for touchdown catches. He also had a 45-yard kickoff return for a touchdown against New Mexico in 1977.
It really is a mystery why Thompson has slipped into oblivion. He had better numbers than the two tight ends who came immediately before and after him who were named first team All-WAC. Thompson also had more receiving yards and touchdowns than Chad Lewis, Trevor Molini, Byron Rex, Andrew George, and Doug Jolley.
He played on three BYU teams that each won nine games, which were the first three seasons in BYU history to do that. The Cougars also won the WAC Championship each of those three seasons. He had a big role in the BYU offense for two seasons, and made several key plays over his career. Thompson has a legacy that deserves to be remembered.
The Editor appreciates all feedback. He can be reached via email at bluecougarfootball@gmail.com